Spanish cuisine
Spanish cuisine is known for its rich and diverse flavors, utilizing a variety of fresh ingredients such as tomatoes, peppers, onions, garlic, and olive oil. Some popular dishes in Spain include paella, a rice dish that can be made with a variety of meats, seafood, and vegetables, as well as tapas, small plates of food that can include everything from cured meats and cheeses to fried seafood and vegetables.
Another popular Spanish dish is gazpacho, a cold soup made from tomatoes, peppers, cucumbers, bread, and olive oil. It is typically served chilled during the summer months.
Spain is also known for its seafood dishes, such as grilled fish, fried seafood, and ceviche. The seafood is often accompanied by a variety of sauces, including aioli and alioli.
One of the most famous Spanish dishes is the traditional Spanish omelette, tortilla española, made with potatoes, onions, eggs, and olive oil. It is often served as a tapa or a main course.
Paella mixta, made with chicken, rabbit, and shellfish is also a popular dishes. Another popular dish is the roast suckling pig, known as lechon asado, that is usually served in special occasions.
In the dessert category, Spain is famous for churros, fried dough pastries that are often served with a chocolate dipping sauce. Flan, a creamy caramel custard, is also a popular dessert.
Spain is also known for its wine and ciders, which are often paired with meals. Sherry, a fortified wine, is a traditional Spanish drink, as well as sangria, a wine-based punch that is often made with fruit and brandy.
Overall, Spanish cuisine is known for its rich flavors, fresh ingredients, and a variety of dishes that can be enjoyed by everyone.
In Spain, they have a bit later habits than in northern europe when it comes to meal times. Both lunch and dinner are served later and you just have to adjust to the Spanish habits. Lunch is served around 1:30-3:00 PM and dinner from 8:30 PM. But it's also not strange to go and order dinner at 11:00 PM. The Spanish's biggest meal is at lunch and then they can order several dishes and also wine with the meal. When they later eat dinner, they often take a lighter meal such as, for example, tapas or some snacks. But in Spain, restaurants also serve regular dishes for dinner.
Paella
Paella is generally considered to be Spain's national dish, but this is not something that the Spanish agree on, they regard paella as a regional Valencia dish. This rice dish in its modern form has its origin from the Albufera lagoon. This is a coastal lagoon that is located in Valencia on the east coast of Spain. Paella is regarded by Valencians as one of their identifying symbols. There are three different types of paella that are the most well-known, and these are Valenca paella, seafood paella, and mixed paella. Valencia paella consists of white rice, green vegetables, meat (chicken or rabbit), land snails, beans, and spices such as saffron, rosemary, and sometimes also lemon. You can also add optional ingredients such as pepper, artichokes, and chicken liver. If you look at seafood paella, you replace the meat with seafood and remove the beans and green vegetables. In the mixed paella, you do as the name suggests, you mix different types of meats, seafood, vegetables, and sometimes also beans. There are also more recipes for different paellas.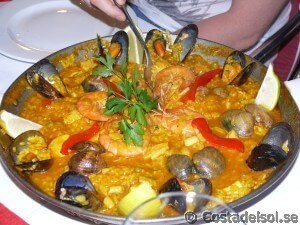 Tapas
Tapas is an important part of Spain's food culture, so you can find many tapas bars in Spain. Tapas is actually any dish, but it is served in smaller portions. From the very beginning, tapas was a small dish that was served on top of a drink to keep the drink away from dirt. That's why it's called tapas, it means lid. According to tradition, a tapa is included with each drink, but today you have to pay a part for your tapa. You need to have a little knowledge of the different sizes of the portions of the tapas. When it says "racione" on the menu, it means a full portion, that is a plate in regular size with what you ordered. But if you order a full portion, you only have the chance to try one dish, and if you are a few more to try such a dish, you can try it together. If you order a "medio" it means a half portion. If you order instead a "tapa", you order the smallest dish. If you want to try a lot of different dishes, tapas is the best alternative. But you need to order several different dishes to be able to get full.
| | |
| --- | --- |
| Sardeller är en typisk tapas-rätt. | Klassisk spansk tapasrätt. |
Fish
On the beaches along the sun coast, it is not uncommon to see boats lying on the beach where sardines are grilled on skewers over an open charcoal bed. These roasted fish are called "espeteros". The tradition of making sardines in this way dates back to the 19th century and has been preserved to this day. These grilled sardines are a symbol of Malaga's gastronomy. It is said that the best date to eat sardines coincides with the month that does not bear the letter "R". "Amoragadores" is the term when cooking is passed from generation to generation. Fish is a specialty along the coast. In restaurants, a number of different fish dishes are served. Olive oil is often used in the preparation of fish.
Ham
Spain is also known for its special ham and there are as many varieties as you want to choose from. It is a bit fun if you can choose one that you have not tried before. The most famous is the Spanish air-dried ham called Jamòn serrano or jamòn ibèrico. Then there is a finer sort called pata negra or jamòn ibèrico de bellota and these come from pigs that only eat acorns.
[wp_ad_camp_1]
There is also a cheese called Manchego that is very flavorful. They also serve a flavorful spicy chorizo sausage that is either hot or cold. Fried small packages of ham rolled in breadcrumbs are called Croquetas. If you want potatoes with strong tomato sauce or with garlic mayonnaise, it is called patatas bravas and patatas con aioli. In Spain, bread is very important to the meal.
Soup
The Spanish soup Gazpacho is known as Spain's national dish, but it actually comes from Andalusia. When it is as hot as summers, this chilled soup is perfect. The soup consists of tomato, cucumber, pepper, garlic, breadcrumbs and olive oil. This soup is usually served in a pitcher with ice or in a glass. There is also another traditional cold soup called Ajo Blanco. This is a great summer soup. It is prepared with almond, vinegar, salt, water and olive oil. If you want, you can also add the flavor of muscat grapes. If the weather is a bit cooler, you can try Sopa de pescado. This is a fish soup that is seasoned with tomato, garlic and brandy.
Oliver
Andalusian olives are known for their high quality and their special dressing that contains ingredients such as cumin, wild marjoram, rosemary, thyme, bay leaves, garlic, and fennel. There are different varieties such as queen's olives, feta olives, manzanilla and pearl from Guadalquivir.
Dryck
Cerveza is a common word for beer in Spain, and the most common bottled beers are San Miguel and Cruzcampo. You can choose between different sizes such as "Quinto" (25 cl) and "tercio" (33 cl). Draft beer can be ordered in sizes such as "una cana" (25 cl) and "un tubo" (30 cl). Andalusia is not the most famous wine region in Spain, but there are wines from the region, including Malaga, which has its own wine made from Moscatel and Pedro Ximenez grapes. The house wine is called "vino de la casa" and a glass is called "una copa".
he small town of Jerez in the Cadiz region, located west of Gibraltar, has given its name to the drink sherry. Sherry is often a quite dry strong wine, but today there is also a sweeter variant. When it says "fino", it is the driest variant. Spain's largest producer of brandy is Andalusia and it comes from sherry bodegas around Jerez.
In Spain, people often drink warm chocolate as a dessert and with some pastry. In Spain, it's usually a warm cup of melted chocolate, very sweet and satisfying and quite different from what we are used to in Sweden. Coffee in Spain is usually the same as in Sweden, with the exception that it is a bit stronger. If you order "cafè con leche", you will get a coffee with half milk and "cortado" is a small espresso with a few drops of milk. If you want an espresso without any milk, you should order a "solo".
Sangria is also a drink that is associated with Spain, but also with Portugal. To make a Sangria, you need wine, chopped fruit, a sweetener, and a small amount of added brandy. As chopped fruit, you can choose orange, lemon, lime, peach, melon, berries, pineapple, grapes, kiwifruit, and mango. The sweetener can be honey, sugar, syrup or orange juice. If you do not want to have brandy, you can instead choose Seltzer, sprite or Seven Up. Because you can vary the recipe of sangria, the alcohol content can vary and also the taste. You can also have carbonated or non-carbonated drink. If you do not want red wine, white wine is also fine. Sangria is often served in large pitchers and with a wooden spoon to be able to get the fruit out of the bottom.
[wp_ad_camp_1]