Search for cheap flights to Malaga
Flights to Malaga
Malaga, located on the southern coast of Spain, is a popular destination for tourists from all over the world. The city is known for its beautiful beaches, historic sites, and delicious cuisine. If you're planning a trip to Malaga from England, flying is the quickest and most convenient option.
There are several airlines that offer flights from England to Malaga, including British Airways, Ryanair, EasyJet, and Jet2. The main airports in England that offer flights to Malaga are London Heathrow, London Gatwick, Manchester, and Bristol.
When planning your trip, it's important to consider the departure airport, flight schedule, and ticket price. Many airlines offer non-stop flights from London Heathrow to Malaga, while other airports may require a connecting flight.
It's also important to consider the time of year that you plan to travel. During the summer months, Malaga is a popular destination and flight prices can be higher. However, during the shoulder seasons of spring and fall, prices may be more affordable.
When booking your flight, it's a good idea to check for any additional fees or charges that may apply, such as baggage fees or seat selection. Many airlines offer the option to add these services during the booking process or later on through their website.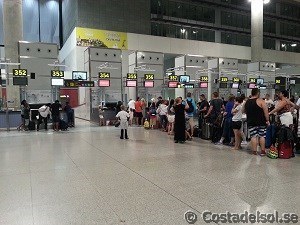 Price range flying from London to Malaga
The price range for flying from London to Malaga can vary depending on the time of year, airline, departure airport, and class of service. During peak travel seasons such as summer, prices for a round-trip economy class ticket can range from around £50 to £200 or more. During the off-peak seasons, prices can be lower, starting from £30. However, it's important to keep in mind that these prices can change frequently and it's best to check with different airlines or travel agencies for the most up-to-date pricing.
When flying to Malaga, it's also important to consider the arrival airport. Malaga Airport (AGP) is the main airport that serves the city and is located about 8 km west of the city center. The airport is well-connected to the city by public transportation, including buses and trains. There are also car rental and taxi services available at the airport.
In conclusion, flying is the quickest and most convenient option for traveling to Malaga from England. With several airlines offering flights from various airports, it's important to consider the departure airport, flight schedule, and ticket price when planning your trip. Additionally, be aware of the additional fees and charges that may apply and the arrival airport location.
[wp_ad_camp_1]
The flight lands at Malaga's airport Pablo Ruiz Picasso Airport and there are many car rental companies. From the airport it is about 8 km to Malaga and it is about 7 miles to Marbella. If you want to get to Malaga from the airport, you can do this by bus or commuter train. It takes about 15 minutes. From the airport you can also take the train to Torremolinos and Fuengirola. If you want to go to Marbella or Estepona, you can take direct buses from the airport. There are also a number of taxis at the airport. With them you can get to Marbella for about £70. A often cheaper and more convenient way is however to book private transfer from the airport. You will then be picked up at the airport by a private driver who will take you to your final destination.