Ojen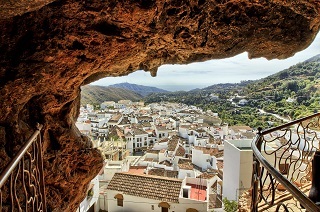 Ojén is a small town located in the province of Málaga, in the southern region of Andalusia, Spain. Despite its small size, Ojén is known for its beautiful natural landscapes, rich history, and traditional way of life.
One of the main attractions of Ojén is its natural beauty. The town is located at the foot of the Sierra Blanca mountain range, offering visitors a chance to explore a variety of scenic hiking and rock-climbing routes. The area is also home to a number of beautiful streams and waterfalls, making it a popular spot for swimming and picnicking.
Cultural and historical heritage
Ojén also has a rich cultural and historical heritage. The town center boasts many traditional white-washed houses, churches, and plaza that reflect the architecture of the area. The most important monument in Ojén is the Castle of Ojén, an 18th-century fortress that offers panoramic views of the town and the surrounding countryside. The castle is now open to the public and provides an interesting glimpse into the history of the town.
Ojén is also famous for its production of high-quality olive oil, it is known as the "Olive Oil Town" and has many olive oil mills and producers. Visitors can take a tour of the olive oil mills and learn about the traditional production process, and also can buy high-quality olive oil products.
Restaurants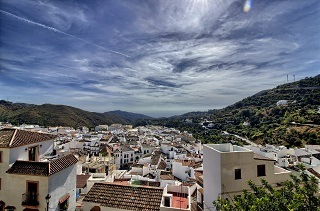 Ojén is known for its delicious local cuisine, as well as a great range of dining options that cater to all tastes and budgets.
One of the most popular types of restaurants in Ojén is the traditional Spanish tapas bar. These cozy spots are the perfect place to sample a variety of small plates of Spanish cuisine, such as tortilla española (potato omelette), croquetas (deep-fried balls of mashed potatoes and meat), and jamón ibérico (Iberian ham). Some popular tapas bars in Ojén include Bodega El Lagar and Bar Casablanca.
Another popular type of restaurant in Ojén is the seafood restaurant. Ojén is located in a coastal area, and thus has access to a wide variety of fresh seafood, including fish, shellfish, and cephalopods. Some of the best seafood restaurants in Ojén include El Pescador and Los Pescadores, which offer a variety of seafood dishes, such as paella de marisco (seafood paella), ceviche (raw fish marinated in citrus juice), and arroz a banda (rice cooked in fish stock).
For those looking for international cuisine, Ojén offers a diverse range of options. There are Italian restaurants like Trattoria La Barca, and also some Asian cuisine like the Chinese Restaurant Ojén, and a few Indian options.
One of the town's unique selling points is that Ojén is known for its production of high-quality olive oil, and thus many of the local restaurants use it in their dishes, and also offer olive oil tastings and pairings. Restaurants like El Mirador de Ojén, and Casa Paco are known to use local olive oil in their dishes and also have olive oil tastings available.
Finally, for a truly unique dining experience, visitors can also check out one of Ojén's parrilleros, which are restaurants that specialize in grilled meats and other traditional Spanish dishes, such as Carne a la Parrilla (grilled meat) and the famous local dish "Carrillera al vino tinto" (beef cheeks in red wine). Some popular parrilleros in Ojén include La Carbonera and Los Pecadores.
Overall, Ojén offers a wide variety of restaurants that offer delicious and authentic local cuisine, as well as international options, making it a great destination for food lovers, and specially for those who appreciate a good olive oil.
The town also offers a good range of culinary options, with a good number of local bars and restaurants serving traditional Spanish dishes such as paella, gazpacho, and tapas. Many of these restaurants use high-quality local ingredients, including the town's renowned olive oil.
Festivals
Every year in July, the Ojeando music festival is celebrated. This festival is one of the most appreciated in the province of Malaga, and has to do with Spanish indiepop/rock. On the first Sunday of November, the Toston Partido Popular festival is celebrated. The festival has its origins from the harvest of chestnuts to roast them and eat them together with cognac. Today, people gather on the streets where chestnuts are roasted and enjoyed with liqueurs or without alcohol.
Relaxed city
Finally, visitors looking for a more relaxed and tranquil experience, Ojén is a great spot to find some peace and quiet. The town is known for its tranquil ambiance and peaceful way of life, and it's a great place to get away from the hustle and bustle of the city and enjoy the simple pleasures of life.
Overall, Ojén is a small town that packs a lot of punch. With its beautiful natural landscapes, rich history, traditional way of life, and delicious local cuisine, it's an ideal destination for visitors looking for a unique and authentic Spanish experience.
Map Ojen