Camping in Spain
Spain offers a wide variety of camping options, from rustic sites in the mountains to luxury resorts on the beach. Some popular camping destinations in Spain include the Pyrenees, the Sierra Nevada, and the Costa del Sol. Many campsites are located near national parks or natural reserves, offering opportunities for hiking, fishing, and bird-watching. Some of the popular activities include visiting the historic cities, visiting beaches, and enjoying the local cuisine. Many of the campsites offer amenities such as shower facilities, electric hookups, and on-site restaurants. It is important to note that while many campsites are open year-round, some are only open during the summer months. It is always best to check the availability before planning a trip.
Imagine being able to take your own house and drive down to Spain. More and more people have discovered the freedom of taking their motorhome or caravan down to Spain and camping there. Both the journey down where you get to discover different countries in a different way and being able to travel around Spain is an experience. Many choose to leave Sweden when autumn comes and settle in Spain during the winter, then return home again when spring comes. All to get the little warmer climate that many long for when it gets chilly here at home. More and more people also set up their motorhome or caravan on the same campsite for longer periods of time. Camping in Spain is also a cheap way to discover Spain. There are many campsites to choose from where there are also bungalows or cabins, some campsites have swimming pools, playgrounds and other services. You can also choose between campsites that are closer to the sea or a campsite that is closer to a city depending on what you are looking for.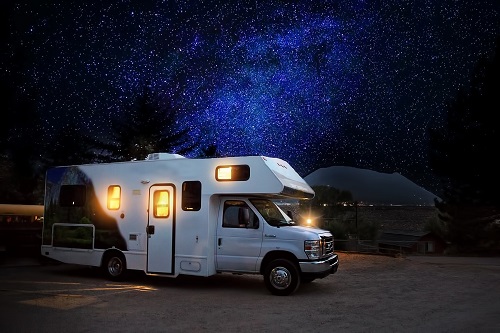 It takes some preparation before going on a motorhome or caravan trip abroad to make the trip as good as you have planned. Think about booking in advance and doing research before you set off on your trip.
Calculate your journey before you go
Before you go, it's a good idea to make a calculation so that you know roughly how much the trip will cost. You can work out what it will cost to drive the distance down, if you calculate the cost of diesel, bridge tolls, motorway tolls in different countries and also charges at campsites, gas costs, etc. You can expect an overnight stay at a campsite to cost roughly between 10 and 20 euro in Germany, France and Spain. If you're lucky, you can also find free pitches in Germany and France. If you choose to stay at a campsite, the costs are higher, between 20 and 45 euro per night.
Book campsite
Be sure to book your campsite in Spain well in advance. During the winter, many campsites are already full. It's also a good idea to have a campsite book or app that tells you when campsites are open. It's also important to plan your trip well so that you don't arrive at the campsite when it's dark. It's not easy to find your way around unfamiliar terrain in the dark with a caravan following your car or in a large motorhome. It's really important that the maps are detailed enough so that you can see if the motorhome or caravan can make its way along the roads. Be careful not to stop anywhere along the roads, choose campsites or rest areas, there are road pirates. If you are stopping for the night, don't sleep in rest areas along the motorway, but look for a pit stop or campsite instead.
Service
It is important to go through the vehicle at a workshop to ensure that everything is as it should be before you go out and drive. Check, for example, the tires on the car and make sure the car's AC works as it should. It may also be worth downloading the motorhome information sheet "troubles with the car abroad." Also, make sure to take the journal number to the insurance company if an accident happens. The most common damages to motorhomes and caravans are collision damages, especially when reversing. Abroad, the most common damage is sheet metal damage from storms or hailstorms. Other typical car damages abroad are engine problems such as clutch failure, problems with turbo or errors in high-pressure pump and diesel injectors.
Plan the route
It can also be good to plan the route before if you want to avoid driving on the Autobahn during weekends. If you drive with a caravan, you cannot drive faster than 80 km/h and the same applies to motorhomes that weigh over 3.5 tons. On the Autobahn, you also cannot stop. It can be good to check the rules for, among other things, speed and overtaking in each country as there may be speed limits even for light motorhomes. Keep the speed limits and be aware of weight regulations so you avoid unnecessary extra expenses.
Driver's license and passport
Don't forget to bring your driver's license. In some countries, an international driver's license is also required, usually not within the EU, but it can make things easier in some situations. Also bring your passport for travel outside of the Nordic countries.
It can also be good to make photocopies of your passport, credit card, tickets and important documents. These should be packed separately from the originals.
Signs and traffic rules
When driving in Europe, signage is the same throughout Europe but traffic rules may vary. It is your responsibility to inform yourself about the traffic rules that apply in the countries you will visit. Fines are also issued abroad and should usually be paid in cash. In some countries, it is mandatory to have reflective vests, fire extinguishers, and extra light bulbs in the car. Also, take a warning triangle and first aid kit as it is mandatory in several countries and recommended in other countries. In some countries, a tow rope is also required. In France, you should bring an alcohol breath tester and these can be purchased as disposable testers at French gas stations. In all EU countries, you must use seat belts in all types of vehicles, including tourist buses and minibuses. Children must use car seats or booster seats in cars and trucks and in other vehicles if possible. Children under 12 years old are not allowed to sit in the front seat of a car. If you drive a motorhome in Germany, it may be necessary to obtain an environmental label.
In Spain, the allowed blood alcohol level is 0.5% which corresponds to a consumption of about one standard drink per hour. In Spain, it is forbidden to park within 7 meters of a bus or tram stop. Where it is a one-way street, you can park on the sidewalk where there are even numbers on the houses. If there is a parking meter, you usually only have to pay between 9:30 am and 2:00 pm and between 4:30 pm and 8:00 pm. But of course, you should check the meter. It is not allowed to honk between 11:00 pm and 6:00 am when driving in a densely populated area. It is only in emergency situations or to prevent a collision or accident that you are allowed to use the horn. It is important to use blinkers when passing someone or when returning to the lane when driving in Spain. In Spain, there are both toll roads, toll-free roads, four-lane roads, roads with two lanes and normal country roads. In Spain, there are two different types of highways, autopista and autovia. Autopista is a toll road and autovia is a toll-free road. When traveling in Italy and Spain and for example, having a bike on the back, it must be marked with a large red/white-striped sign. There are different signs that apply in different EU countries, so it can be good to read up on what applies in different countries if you are going through several countries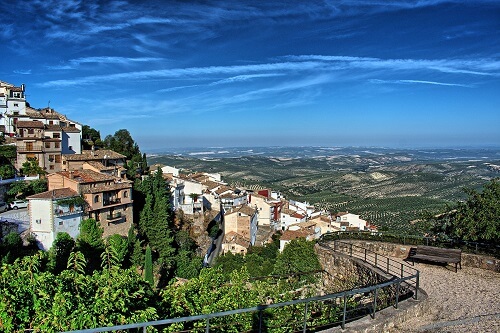 Toll roads
It is also good to know that in some countries, the roads are toll roads. Make sure to pay because in many southern countries, there can be hefty fines if you cheat. There may also be special rules for heavy motorhomes. Road tolls are paid in different ways where in some countries, there are manned toll booths along the roads. In some countries, you buy a vignette in advance, which is a sticker that is placed on the windshield. Sometimes the vehicle is recorded by a camera, and then you must pay the fee within a certain time on an account or pay cash at a payment point. Many roads are toll roads, but also tunnels, ferries and bridges can be toll roads. In more and more countries, it is forbidden with car traffic in the center, except for those with permission. There are also environmental charges or requirements for environmental decals. Read about rules and fees for different countries. For example, in Austria, Switzerland, Czech Republic, Slovakia, Slovenia, and Hungary, a sticker on the windshield is required when driving on a highway, a so-called Autobahn vignette. You buy it at major gas stations in border areas or at the border. The police fine if you do not have this sticker or if the sticker is placed incorrectly or loosely or if old stickers are still in place. These stickers are available for shorter or longer periods. If you have a heavy motorhome, over 3.5 tons total weight, you will need to pay a kilometer fee in many countries
Mobile phone ban
It is prohibited to talk on a mobile phone while driving in all EU countries, you will be fined immediately if you are caught. There are also rules for talking on a hands-free in some countries.
Gas
It is also worth checking up on gas bottles before traveling as all countries have their own gas bottles. In other European countries, you may need a separate valve and an adapter to use gas bottles from other European countries. If you want to fill up the Swedish gas bottle, you may need an adapter, which you can often buy in hardware stores. But it's still good to check it out before. In Spain, gas bottles often have a regional origin. It is then not guaranteed that you can exchange a bottle bought in Malaga with a bottle in Barcelona
Current maps
Remember to bring a clear and current road map and updated maps/apps for GPS, smartphone or tablet. If you're out driving with a caravan or a large motorhome, it's important to know what the roads look like so you can get on the road and not have to turn on a narrow street or accidentally drive on a road that suddenly ends.
Borrowed vehicle
If the car is borrowed or leased, you must have a written permission from the owner.
Credit cards
It can be good to have two different credit cards, one of which is a credit card. These should be stored in different places. Also, remember to bring the phone number of the bank's block service. It may also be good to bring foreign currency in cash as cards are not welcome everywhere. Also, remember to empty your wallet and purse of unnecessary things that you don't need on the trip.
Traveling with children
If you are traveling abroad with children who you are not a guardian of or have shared custody with a parent who is not on the trip, you need to have a parent's permission.
Different accessories that are good to bring
It is also good to bring motorhome accessories such as a mobile phone, charger, flashlight, parking disc, motorhome or caravan spare key, sunglasses. Bring your own water hose with a number of different connections. On campsites there are often water hoses, but it may happen that some use them to flush the toilet cassette which is not so fresh when you're filling up your water. You can also have a water can. It can be good to have a small toolbox with different tools such as, for example, jump cables, tow rope, jack, wheel wrench, hammer, chisels, pliers, polygrip, shift, ring and Allen keys, work gloves, silver tape, knife, steel wire, household paper, rags, plastic bags, flashlight, motor oil, coolant, windshield washer fluid, water bottle, umbrella, thick clear plastic if you temporarily need to cover a broken window. It is always good to have a roll of silver tape and black garbage bags if something unexpected breaks and needs to be fixed. On some campsites there may be a ban on coal grills so it may be good to bring a gas grill instead if you want to be able to grill. With the fact that you in some countries have to bring a first aid kit, you might as well pack with you remedies for car sickness, fever, diarrhea and constipation, headache tablets, plasters, salve for insect bites, wet wipes, sun protection and cooling lotion. In most European countries it is required to have a reflective vest for everyone in the car. If you are going out on a traffic road you have to wear the vest so it should be easily accessible in the car. If you are going during winter time on winter road conditions it is good to have a snow shovel, snow brush, ice scraper, connection cable to the engine heater.
Renting a motorhome in Spain
If you feel that you do not want to drive a motorhome all the way down to Spain and the Costa del Sol, but still want to drive around with a motorhome along this beautiful coast, it is possible to rent a motorhome on site in Spain. Then you just take the flight down to Malaga and there is Europe's largest motorhome rental company McRent. In Malaga, you pick up the motorhome that you have chosen to rent and set out on a cozy adventure. Then you just return the motorhome at the same place and take the flight home again.