Marbella
See our slideshow about Marbella:

Marbella is located about 6 miles west of Malaga and is the Costa del Sol's most luxurious and expensive city. Here, about 100,000 people live and many belong to Europe's jet set. Here you will find a lot of fine hotels and many tourists. Many world-famous names have visited the luxurious but discreet hotels.
See popular hotels in Marbella here. This is also where those who want to visit one of the many fine golf courses in the area and also the many fine long sandy beaches come. Many fine luxury cruisers and yachts come here and dock in the fine port Puerto Banus. Marbella is also host to the WTA tennis tournament on clay. In Marbella, you will also find many of the more exclusive clubs in Europe. People come here to relax on the beach during the day and go out dancing all night.
Watch our film about the city of Marbella here:


[wp_ad_camp_1]

Beaches
Marbella's main attraction is its beaches, which stretch along the coast from east to west. The most famous and popular beaches in Marbella are the ones located in the center and east of the city, such as:
Playa de la Fontanilla: This is a long and wide beach located in the center of the city, with a lively atmosphere and a variety of beach bars and restaurants.
Playa de Venus: This is a long and wide beach located in the east of the city, it's a family-friendly spot with plenty of services and facilities.
Playa de Casablanca: This is a small and peaceful beach located in the east of the city, it's known for its clear waters and beautiful views.

Small clip showing what the beach and promenade look like in Marbella: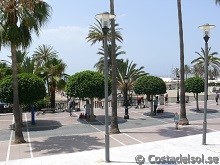 Restaurants
Marbella is also known for its luxury resorts and high-end shopping and dining. The city has several luxury resorts and hotels, many of which are located on the beach and offer guests a variety of amenities and services.
Marbella is a popular destination for tourists looking to enjoy the Mediterranean climate, beautiful beaches, and delicious food. The city is renowned for its high-end restaurants, which offer a wide variety of culinary experiences. Whether you're looking for traditional Spanish fare or international cuisine, you'll find it in Marbella.
One of the most famous restaurants in Marbella is El Lago. Located in the prestigious Hotel Puente Romano, El Lago offers a sophisticated dining experience with a menu that features Mediterranean and international cuisine. The restaurant is particularly renowned for its seafood dishes, which are prepared with the freshest ingredients and cooked to perfection. The elegant atmosphere and stunning views of the lake make it the perfect spot for a romantic dinner or special occasion.
Another must-visit restaurant in Marbella is Dani Garcia. This two-Michelin starred restaurant led by chef Dani Garcia offers an innovative take on traditional Andalusian cuisine. The menu features a mix of modern and classic dishes with unique flavors, and have a focus on local seafood and product. With an excellent wine selection and elegant atmosphere, Dani Garcia is the ideal spot for a truly unforgettable dining experience.
For a more casual dining experience, you can head to La Casa del Pinero. This charming restaurant serves traditional Spanish tapas, made with locally-sourced ingredients and traditional recipes. The menu changes daily based on what's in season and available, but you can always expect to find a variety of delicious tapas, as well as paella, seafood, and meats.
Another great casual dining spot is El Gran Gatsby. This charming 1920s inspired restaurant serves excellent Mediterranean cuisine with a focus on seafood, with a casual and lively atmosphere perfect for families or group of friends.
Marbella also offers a wide variety of international cuisine, with Italian, French, Chinese, and Japanese restaurants. Overall there's a great variety of options to suit every taste and budget, so you're sure to find the perfect restaurant for your next meal in Marbella.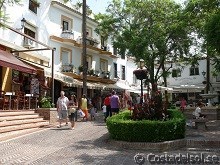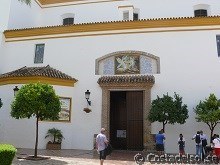 [wp_ad_camp_1]

Sights and landmarks
The city's Old Town (Casco Antiguo) offers a charming contrast to the luxury of the rest of the city, here you can see the remains of the Moorish walls and the remains of the castle of Sohail, a beautiful Renaissance church and the Plaza de los Naranjos (Orange Square) surrounded by orange trees. The narrow streets of the old town are home to many fashionable boutiques and art galleries, as well as traditional Andalusian restaurants serving delicious local cuisine.
The city is home to several landmarks that are worth visiting, each with its own unique charm and significance.
One of the most iconic landmarks in Marbella is the Alcazaba. This Moorish fortress, built in the 11th century, is one of the most important historical sites in the area. The fortress features a series of walls, towers, and gates, as well as a palace and gardens. Visitors can explore the various rooms and courtyards of the palace, as well as enjoy the beautiful views of the surrounding area.
Another important historical landmark in Marbella is the Church of the Sacred Heart. This Catholic church, built in the neo-gothic style, was completed in 1933 and is one of the most important religious buildings in the city. Inside, you will find a beautiful altar, several chapels, and a collection of religious artifacts.
For a more modern landmark, the Orange Square (Plaza de los Naranjos) is a must-see. This charming square is located in the heart of the old town and is surrounded by lively cafes, restaurants, and shops. The square is known for its orange trees, which give it its name, and its 17th century church, and fountain.
Another popular attraction is the Marina of Marbella. This picturesque marina is home to luxury yachts and boats, and is a great place to stroll, relax and enjoy the view. With plenty of high-end restaurants and shops, the marina is a great place to spend an afternoon.
For nature lovers, the Rio Real Golf Club is a must-visit. This 18-hole golf course, located on the banks of the Real River, offers beautiful views of the surrounding mountains and the Mediterranean Sea. The course is open to the public and is known for its challenging layout and well-maintained greens.
These are just a few of the landmarks in Marbella. The city has much more to offer, from its beaches to its rich cultural heritage, and visitors are sure to find something that interests them.
Marbella is also a great base for exploring the surrounding area, including the Costa del Sol. Visitors can take day trips to nearby towns such as Estepona or Ronda, or they can visit the nearby beaches and natural parks.
Overall, Marbella is a city that offers a unique combination of luxury and tradition, making it a popular destination for both luxury travelers and those looking to experience the culture and history of Andalusia. Its beautiful beaches and warm climate, as well as its high-end shopping and dining, make it an ideal destination for a luxury beach vacation.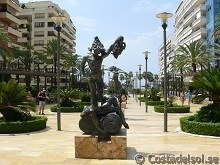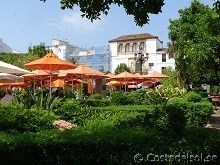 Map Marbella: