Where can I play padel on the Costa del Sol?
Is there anyone who hasn't heard of the hot racket sport padel yet? Padel is the sport that is growing at a record pace around Europe. This is Argentina's largest sport with 4 million players and Spain's second largest sport after football, with 2.4 million players. Since padel is so big in Spain, it is an excellent opportunity to try this sport when you are already visiting the country. We have mapped where you can play padel in the most popular towns on the Costa del Sol. Enjoy!
All padel courts on Costa del Sol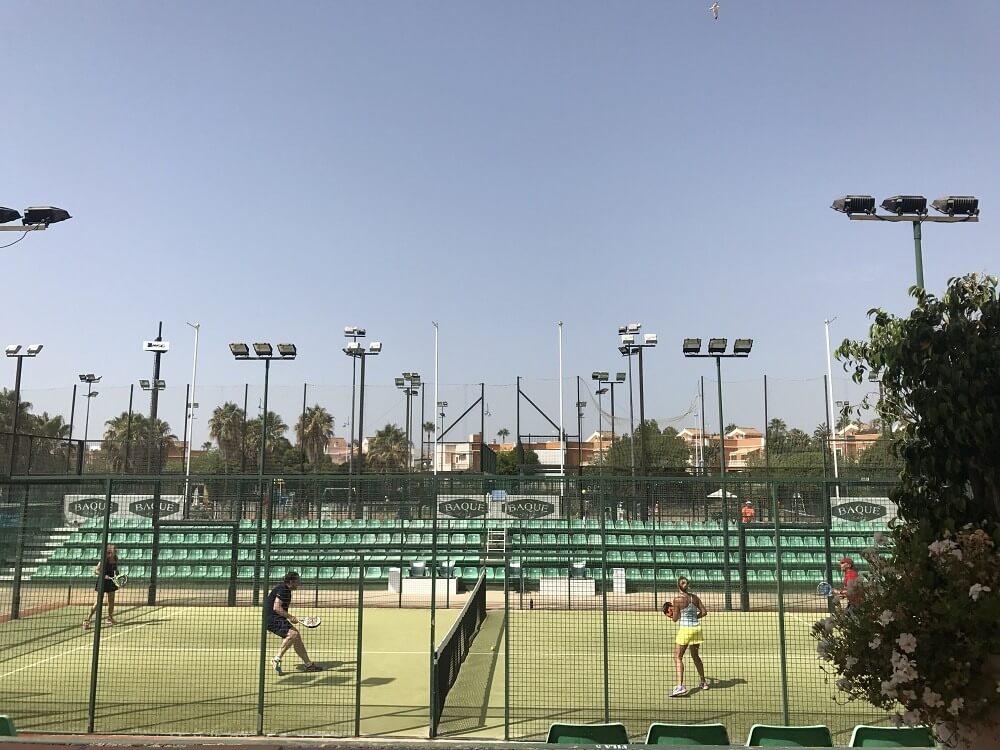 Annons:
Best overgrip on the market from Padly – www.padly.se

Malaga
El Candado Club
The El Candado Club is one of the most prestigious on the Costa del Sol with its facilities and location, only 10 minutes from central Malaga. Here you will find seven padel courts and a large sports academy where children and adults can learn to play and improve their game. The club also hosts games for provincial padel tournaments. www.clubelcandado.com

O2 El Perchel Center
Here you can play padel. It is open to the public even if you come here and play alone or in a team. Tournaments, leagues and clubs of all kinds and at different levels are also held. There is also a gym, fitness classes, spa circuits, treatments, physiotherapists, outdoor pool and terrace. www.malaga.o2cw.es

Palacio de Deportes José Ma Martín Carpena
There are two padel courts. The Palace of Sports Jose Maria Martin Carpena is surrounded by other sports facilities. Here all types of sports events, music, theater and is also the main office of congresses and exhibitions of all kinds. The International Malaga Master Tennis has been held here. There is capacity for up to 11,300 spectators at sports events and more than 10,000 at large concerts. http://www.malagadeporteyeventos.com/instalaciones/palacio-de-deportes-jose-ma-martin-carpena/

Club de Tenis Malaga
At Club de Tenis Malaga there are 6 padel courts of glass. They also have tennis courts with a tennis school, a soccer area, gym, pilates, taekwando and there is a restaurant. www.clubdetenismalaga.com

Cortijo Alto Tennis Club
Here there are four padel courts made of concrete walls and artificial turf that are lit. There are also four tennis courts, a reception, changing rooms with lockers and they sell sports equipment and string rackets. https://centrodeportivocortijoalto.com

Inacua Center Racket
Here there are 16 padel courts. Inacua Malaga is a center that specializes in sports, health and beauty. There is also a gym, cumba, pilates, yoga, water area with water training, sauna, jacuzzi, tennis courts and fitness. www.inacua.com

Club Deportivo Leon 13
The club has 13 padel courts, two sports facilities, an artificial turf soccer field, changing rooms with sauna, restaurant, miniclub for the little ones. There is a padel school where you can train alone, in pairs or in small groups. www.clubdeportivoleon13.es/club-deportivo/escuela-padel

---
Marbella
Real Club Marbella
Real Club Marbella is an exclusive and luxurious facility. The club was started in 2009 and has since developed and the facilities have become larger. Here there are 10 well-maintained padel courts with glass walls and a luxurious gym. The club organizes matches at different levels, tournaments, private lessons activities for children, national competitions etc. There is a beauty center, a children's area and restaurant/cafeteria. www.realclubpadelmarbella.com

Puente Romano
The Puente Romano Hotel Tennis Club is an important part of the iconic Puente Romano Hotel Resort, located on Marbella's golden mile. Since the Puente Romano Club was created, padel has had a privileged place at the club. It was Björn Borg who inaugurated the club in 1979, and it has since been managed by Spain's Manolo Santana. Here there are four padel courts. The club has been host to the very best stars in international tournaments. There is a gym, activity room, massage room, sauna, Turkish bath, restaurant, pro shop. There are several tennis courts. The tennis club holds official ATP, WTA, Fed Cup, and David Cup tournaments. Their "Center Court" seats 2,500 spectators and is also used as a concert venue. https://tenis.puenteromano.com

Club del Sol
Club del sol is located between Marbella and Fuengirola, 30 minutes from Malaga airport. Here you will find four padel courts with artificial turf, two of which are lit. You can rent rackets here but the balls are free. It costs extra if you want the lights on the court. You can also play tennis, squash, and there is a gym. Outside there is also a terrace where you can take something refreshing to drink. www.tenniscostadelsol.com

Vasari Vacation Resort
Vasari Vacation Resort is located in Puerto Banus-Marbella, only 500 meters from the beach. Here at Vasari Padel Club there are three padel tennis courts. Vasari Resort is an apartment hotel with bathroom, kitchen and living room. It's perfect to stay right next to the padel court for those who want an active vacation. The hotel also has a beauty salon and there is a pool with pool bar. The Melior Vasari business center is only a few meters from the hotel. www.vasariresort.com

Bel Air Tennis Club
Bel Air Tennis Club is located near El Paraiso and Los Flamingos Golf urbanization, between Marbella and Estepona. Here there are four padel courts with glass and nine tennis courts, soccer field, gym, volleyball court, cafeteria, terraces and playgrounds. The club is also home to the Tennis Academy Sergio Gomez Marbella, one of the leading professional tennis programs in the area. At the club, you can train at junior, adult and professional level. Private lessons and mix in are available. www.belairtennis.com/en/

Manolo Santana Racquets Club Marbella
Manolo Santana Racquets Club was founded by tennis player Manolo Santana in 1997. This is a sports club with a wide range of sports and leisure activities for the whole family. There are four padel courts, a gym, health center, outdoor pool, and restaurant. The club has its own tennis and padel school that is open year-round for beginners and advanced players and they have over 1000 members. You can also be here and play even if you are not a member. There are six Grand Slam courts, grass, clay and plexi-court. www.manolosantana.es

Royal Tennis Club
At this club there are two padel courts. Both adults and children can play tennis here and you can sign up for mix-in or individually. In the evening, the courts are lit. In mix-in, two hours of play with a coach and a free drink are included. Royal tennis club also has a hotel with a 12-minute walk to the beach. There is also a health center, a gym, a restaurant, bar and an outdoor pool. The hotel rooms have a minibar, free Wi-Fi and bathroom. www.royaltennisclub.com

Los Naranjos Club de Padel
Los Naranjos is a small club with four padel courts. Here is a restaurant and a pool with sun loungers. marbella.tennis

Club de Tenis El Casco
Here there are four padel courts and it is open to all levels and ages. You can take private lessons, rent a court and summer and holiday camps are arranged. The club is located within the urbanization El Rosario east of Marbella.

Club de Padel och Tenis Nueva Alcantara
The club was opened in 1999 and is the birthplace of padel in Marbella. Here there are eleven padel courts, seven of which are made of glass and four of walls. This club has a partnership with the Hotel Guadalmina, which is the official hotel for all World Padel Tour players every year. The club also has a gym, spa, beauty center, boutique, bar and restaurant. They offer professional lessons and courses.

Marbella Hill tennisklubb
The club has clay courts, padel tennis, private lessons and coaching in other languages. There are also more activities at the Marbella Club & Puento Romano Hotel.

El Mirador Tennis och Padel
El Mirador Tenis y Padel is a family club in Marbella. Tournaments and activities are organized here. There are six padel courts, three tennis courts and rooms where you can practice pilates, stretching, aerobics, etc. There is also a bar and cafeteria area. www.elmiradorclub.com

Racket Club Los Granados
The club is located in Puerto Banus and here there are five padel courts, three of which are made of glass and two with walls. There are also two tennis courts. Organized matches and various padel tournaments are held here, but you can also book courts.

Padel Club Alhambra del Golf
This is a small club that has four glass courts. Here there is a large lawn and an area for children. Here is a padel school for adults and children and padel tournaments and mix-ins are organized. There is also a restaurant with a cozy terrace.

Azalea Beach Club av Padel
This club is located in San Pedro de Alcantara a little bit away from Puerto Banus. Here are three padel courts and padel tournaments are held several times a year.

Royal Tennis Club Marbella
The club is located in El Rosario and is a large tennis club on the Costa del Sol and probably also the oldest. In addition to tennis courts, there are also four padel courts here. Various activities for children and summer camps are organized here. The club also has a gym and organized activities such as pilates, aerobics, karate, etc. www.royaltennisclub.es

Pinomar Padel Club
Pinomar Padel Club is located in eastern Marbella. Here are six padel courts, one tennis court and a sports center for various sports and activities. There is also a cafeteria and a children's area. www.padelpinomar.com

---
Estepona
Villa Padierna Racquet Club
The club has more than 22,000 square meters of sports facilities for activities such as playing padel and tennis. There are eleven padel courts, five of which are indoor and six have concrete walls and artificial turf. There are also tennis courts, a bar, restaurant, TV sports, shop, and croquet. The club is located in the Costalita urbanization and next to the Hotel Villa Padierna Palace in Estepona. www.villapadierna.es/palace/en/racquet-club/

Sol Marbella Estepona (Atalya Park Golf Hotel och Resort)
With a major renovation, the hotel has changed its name to Sol Marbella Estepona. This club has one padel court and nine tennis courts. Both members and non-members can play here. The club offers training for players of all levels, weekly, doubles, mixing, summer camps. They also offer vacation packages with accommodation at the hotel.

Club de Tenis Estepona
Here are six padel courts with synthetic grass. There are also tennis courts, a soccer field, semi-olympic pool, gym, sauna, bar and restaurant. The club has its own tennis school, they host regular tournaments and they offer mid-week "happy hours" for padel, even for non-members. www.tenisestepona.com

Las Mesas sportscenter
This is a sports center where there are 10 glass courts and they are lit. There are also changing rooms, a bar and a cafeteria. There is an 800 m2 training facility, five large rooms for targeted activities, and an artificial terrace with sea views. Here you can also get www.centrodeportivolasmesas.com

Hotel Fuerte Estepona
Hotel Fuerte Estepona is a hotel with its own modern sports facility for padel, tennis and volleyball. There is also a spa, pools and relaxing gardens. The hotel also has a restaurant and pool bar. The hotel has 210 spacious rooms and luxurious apartments. The hotel is located on the beach of Arroyo Vaquero with five minutes from the center. www.fuertehoteles.com

---
Mijas
Riviera Sport Club
Riviera Sport Club is a sports center on 8000 m2. There are 5 padel tennis courts, 6 tennis courts, gym, physiotherapy, physiotherapy, sports bar, etc. Four of the padel courts have glass walls. You can take padel lessons individually or in groups. There are also tournaments and mix-in tournaments. www.rivierasportclub.com

Campo de Tenis y Padel Lew Hoad
Campo de Tenis y Padel Lew Hoad was founded in 2005 by an Australian tennis player from the 50s and 60s. Here there are six glass padel courts with artificial grass that are lit and newly renovated. The facility is open to the public. The club also has tennis courts, gym, shop, saltwater pool, snack bar and restaurant. Mix-in padel, padel tournaments, private classes, individual or groups are organized here. www.lew-hoad.com/en/

Mijas Padel Indoor
In Mijas there is a facility with indoor padel courts.

Raquetas de Mijas
This is a sports club in Mijas that was opened in 2014. There are six courts with glass walls. Mixins, tournaments and leagues are organized. The club also has a gym, fitness/wellness, martial arts, tennis courts, soccer field and shop. After training, you can sit on the terrace and enjoy something cold in the bar. www.raquetasdemijas.com

---
Fuengirola
Racket Club Fuengirola
At Racket Club Fuengirola there are four glass-paddle courts with artificial grass. The courts are specially built by experts in sports facilities to be leading in padel. www.racketclubfuengirola.com

Myramar Hotel
Myramar Hotel has a sports facility with 8 paddle courts directly connected to the hotel. There are also trainers available. The hotel is located near the center of Fuengirola and the beach. The hotel is an apartment hotel with 229 apartments with 1 bedroom or 2 bedrooms, kitchen, refrigerator, microwave, kitchen utensils, shower and toilet. www.myramarhoteles.com

Double Tree by Hilton Resort & Spa Reserva del Higueron
This is a private resort for adults over 16 years old. Here is reserva del higueron sport club. Adjacent to the hotel are 12 glass-paddle courts, tennis court, gym, three outdoor pools, an indoor pool, beach volleyball courts, fitness room with activities such as yoga and pilates. There is also a bar and restaurant. www.reservadelhigueronresort.com/sport-club/

Club de padel los Boliches
Club de padel los Boliches is located on the beach in Fuengirola. It has four padel courts, outdoor areas, shop, terraces, snack bar, electro-fitness, physiotherapy and massage. There is qualified staff that will provide you with good service. Different classes and competitions are held here. www.clubdepadellosboliches.com

Club de Padel en los Pacos
Here there are eight glass courts. You can play mix-ins, private classes and reserve courts. There is also a shop. The club is located in Camino de La Cantera.

---
Nerja
Club de Tenis y Padel la Raqueta Nerja
The club has two padel courts, one wall and one glass court. There are changing rooms, cafe, bar and restaurant. You can rent rackets and balls at the club. You can also book the court to be lit up. Right across the street is Hotel Nerja Club. www.nerjapadelclub.wixsite.com/clublaraqueta

Nerja Sport Complex ( Estadio zona Deportiva Enrique Lopez Cuenca)
This is a large sports facility where there are 4 padel courts, pool, spa, gym, athletics arena, sports hall for example basketball, handball, football, volleyball, etc. There is also a cafeteria.

Parador de Nerja
The Parador de Nerja is a hotel located in Nerja on a cliff with beautiful views of the sea. The hotel has two padel courts with concrete walls that can be booked and played on. Tennis can also be played here. The hotel also has a pool and restaurants. https://www.parador.es/es/paradores/parador-de-nerja?utm_source=GoogleMyBusiness&utm_medium=linkgoogle&utm_campaign=paradordenerja&utm_term=organico&utm_content=ficha

Vals sport Axarquia (Torre del Mar)
Vals Sport Axarquia is a gym in Torre del Mar. The gym has seven padel courts, two tennis courts, a fitness room, spinning room, outdoor pool, crossfit, multi-sport courts, sports shop, beauty salon, physiotherapy, two football fields, spa, sauna, terrace and restaurant. The sports center opened in 2010 and offers a wide range of activities. You can also take Zumba, Pilates and Yoga classes. There is also a sports school for younger children. www.centrodeportivoaxarquia.com

---
Torremolinos
Padel Tennis Club Torremolinos
This club has a strong tennis tradition, founded in 1976, and it is currently being modernized. There are three lit padel courts, four tennis courts, a cafeteria, bar, restaurant, terrace and barbecue area. Sports schools, leagues and competitions are organized. www.cdtv.es

Racket Club La Colina
At this club, you can rent padel courts and take padel lessons individually or with others. The club is located in Torremolinos, just 600 meters from the beach. There are five new glass courts with artificial grass, a tennis court, indoor football field, tropical beach bar, and restaurant bar. www.lacolinapadel.com/el-club-de-tenis-padel-la-colina-torremolinos.html

---
Benalmadena
Benalmadena Palace Hotel Spa
The Benalmadena Palace Hotel Spa has a newly built padel court and you can rent rackets and balls at the reception. The hotel also has mini golf, mini football, volleyball, and more in its sports area. There is also a spa, pool, gym, restaurant, and various activities for children. www.benalmadenapalace.com

Club Municipal de Raqueta
This is a club where you can play padel and tennis. The club is located in the city center and only three minutes from the beach. You can take lessons and summer courses here. There is a cafeteria and shop.

Reserva del Higueron
Reserva del Higueron Sport Club is a sports club that belongs to the Reserva del Higueron Resort. Here there are 12 glass-padel courts, six of them have panoramic views. There are beach volleyball courts, beach soccer, beach tennis, beach handball, fitness room with activities, indoor pool, changing rooms, gym, spinning room, playground, sports shop and snack bar. www.reservadelhigueronresort.com/sport-club/

---
This is padel
Spain is also perfect for playing padel due to the wonderful weather all year round. No matter where you go in Spain, you will come across the characteristic padel courts. Almost all golf courses also have padel courts and it seems to be a successful combination. Many Swedes who have gone to Spain to play golf have also taken the opportunity to try playing padel. But what is padel? You could say that padel is a racket sport that is a combination of tennis and squash, but much easier to play. Padel is a compressed form of tennis with a net and, just like in squash, you play on a court with high walls where you can use the walls to hit the ball. Padel is very easy to learn and anyone can be playing after a few minutes, regardless of age and mobility. Padel is also a social sport as you play doubles.
The rules of padel
Padel is a sport that is a combination of tennis and squash, but it is much easier to play. The padel court is 10m X 20m in size and is surrounded by 3 meter high glass walls and grates. Glass walls can be used during the game and in the middle of the court there is a net that divides the court. The game is always played in doubles, so there are four players. The scoring system is like in tennis. Each point starts with an underhand serve where the racket is not allowed to hit the ball higher than the hip. The server should stand to the right of the centerline and serve diagonally so that the ball goes over the net and bounces in the service box. After that, the sides are alternated. During the serve, the ball is not allowed to hit the side grate after the bounce, only the glass. You only have two serves like in tennis, and the lines on the court are only in use during the serve, and then the entire court is used as a playing field. You can play a volley and the ball can also bounce on the ground and hit the side/back wall before hitting the ball back to the opponent's side. You can also hit the ball on the glass wall on your own half of the court to get the ball to the opponent's side. The ball is lost if it bounces twice on your side or if a player is hit by the ball. The ball can not be played directly on the opponent's walls, but must always first hit the ground.
Padel rackets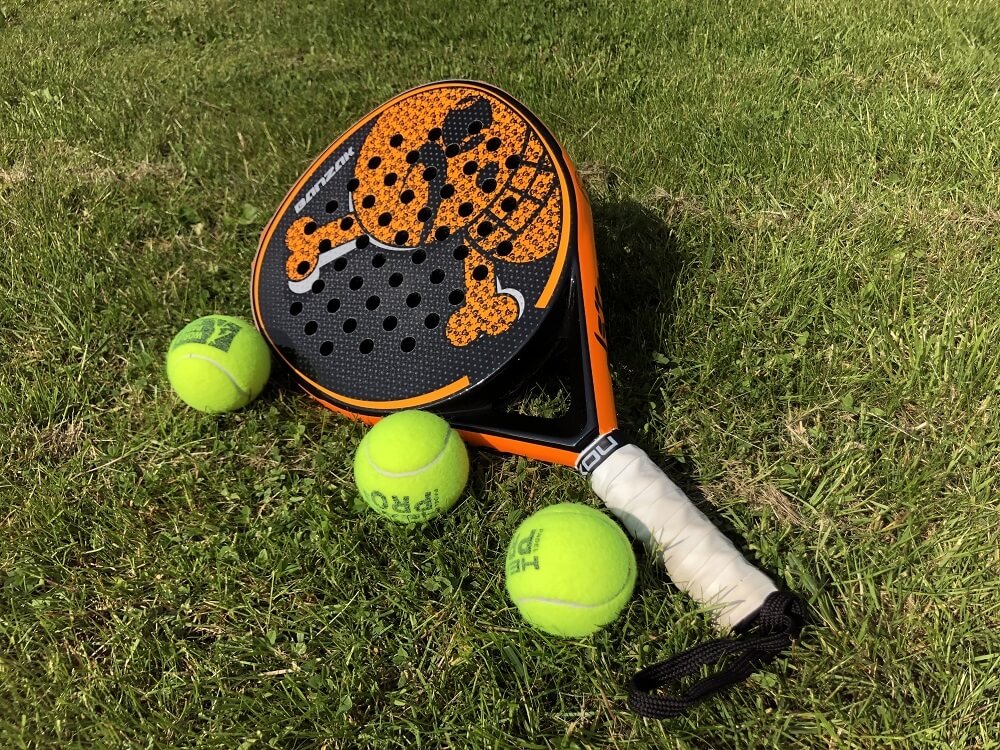 When playing padel, you should use a special racket that is made of composite materials with holes in the striking surface, which is different from tennis and squash rackets which are made of strings. Without strings on the racket, the ball will not have the same power and the hit will be less powerful. When playing padel, you can choose from three different shapes of racket: round shape, drop shape, or diamond shape. The difference is in the location of the so-called sweet spot, which is the area that is most forgiving and where the balance of the racket is. Beginners should start with a racket that has a large sweet spot to make the game easier. If you have been playing for a while and found your playing style, there are rackets that have properties such as control, speed, and feel. A harder racket is easier to control for someone who hits harder, and a softer racket helps to increase the speed of the ball. A round-shaped racket is best for beginners, as it has a larger striking surface and balance and the center of gravity is in the middle of the racket. The sweet spot is in the middle, making it easier to handle the racket and hit the ball. If you are a little more advanced, you can choose a drop-shaped racket where the sweet spot and balance are placed between the top and the middle, and the player gets a little more challenges. Someone who has been playing for a while can choose the diamond-shaped racket where the sweet spot is on the top of the racket and the striking surface is smaller, which is an advantage for the skilled player who is good at smashing and hitting the ball. This racket is often perceived as heavier and the center of gravity and balance are higher on the racket, which can be difficult for beginners.
Padel shoes
When playing padel, it is important to wear shoes with patterned soles so you have better grip and do not slip. You can buy special padel shoes, but they are essentially the same as shoes for clay tennis, although there are a number of specialized padel shoes. Just keep in mind that the shoes you choose should have a bit of pattern on the sole and they should provide good support for the ankle.
History of padel
The Prince Alfonso de Hohenlohe, who ruled in Spain in the early 1970s, traveled to Mexico to visit his friend, businessman Enrique Corcuera. On his property, Enrique Corcuera had built an under-sized tennis court with 3 meter high walls. On this court, using wooden paddles, players would hit the ball against the walls, similar to squash. The Prince was extremely fond of this new sport and when he returned home, he made some adjustments to the rules and the court design and built his first 2 padel courts at his own club, Marbella Club on the Costa del Sol. This sport quickly grew in popularity among Hohenlohe's jet-set friends and many more courts were built in a short amount of time. The sport became known as padel. One of Hohenlohe's friends, Argentine millionaire Julio Menditenguia, noticed the popularity of padel in Spain and decided to take the sport to Argentina. Within a few years, he had successfully made padel one of Argentina's leading sports. Since then, padel has spread around the world and is now one of the world's fastest growing sports. On July 25, 1991, the International Federation of Padel was formed with the goal of spreading the sport of padel by organizing international matches. A special set of rules for international play was developed. The first World Padel Championship was played in 1992, with 11 countries participating from America and Europe. More and more padel associations have been created in different countries in Europe. There are now 19 member countries in the International Padel Federation and the European and World Championships are held every other year.