Nueva Andalucia
See our slideshow of Nueva Andalucia:

Nueva Andalucia is the largest district located in Marbella. It is a large residential area located north of Puerto Banus on the Spanish coast that stretches over several kilometers. It has a population of around 15,000, but it increases significantly in the summer. The area was created by Jose Banus Mas, who came to Marbella in 1962. In 1965, Puerto Banus was constructed to be inaugurated in 1968. Right after this, the infrastructure in Nueva Andalucia was built. The area developed and grew until 1989, and it has continued to develop in the 21st century.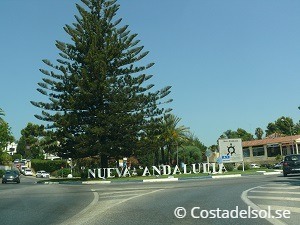 Downtown
Nueva Andalucia is a large residential area with a shopping center, Centro Plaza, which is a popular gathering spot. There are restaurants, shops, bars, offices, gyms, beauty salons, etc. A popular restaurant is La Sala, which has live music and DJs on weekends. If you want more shops and restaurants, it is within walking distance to Puerto Banus, where you can find a wide variety of them. There is also the luxury department store El Corte Ingles. Nueva Andalucia also holds a market every Saturday. The market starts at the bullring. Here, you can find a variety of goods such as clothes, shoes, fruit, vegetables, plants, etc. There are also many schools, including Aloha College and Les Roches. Nueva Andalucia is also known to be a little Swedish colony, as there are many Swedes living here all year round. There are also Swedish grocery stores and restaurants.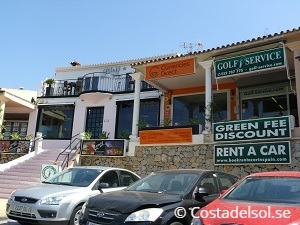 The residential area
Here, you can find white-washed and terracotta-colored houses surrounded by palm trees and high mountains. This is an idyllic environment where the rich and famous live. There are luxurious apartment complexes and villas with gated communities. Because the area is located a bit away from Puerto Banus, it is quiet and secluded from all the noise and activity. Here, you can also see luxury cars such as Aston Martins or Porsche Cayennes driving around.
Golf
Nueva Andalucia is most known for its many golf courses. Here, you can play golf with a wonderful view. Las Brisas, Los Naranjos, Aloha Golf, La Magna, La Quinta Golf, and La Dama de Noche are some of the golf courses located nearby.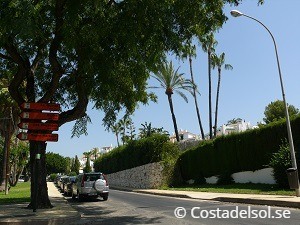 Activities
There are also things for those who are interested in sports. At Aloha Sports Club, there are daily tennis, netball, basketball, padel, and soccer classes for both children and adults.
Casino
In Nueva Andalucia, there is a casino. The casino is located in the Andalucia Plaza Hotel (H10 Andalucia Plaza) which is opposite to Puerto Banus. The hotel was built by Jose Banus as part of the project. Here, there are 72 slot machines and other games, and there are also various events and shows.
Restaurants
If you want a lively nightlife, you can take a walk down to Puerto Banus. Otherwise, there are a few bars that usually attract people in Nueva Andalucia. El Jardin is located in the Aloha Gardens residential area and a short distance away is The Point, which is a bar with an open terrace. If you want to visit a restaurant, there are options such as Yanx at Centro Plaza, Pasta Cafe with Italian and French food, El Picadero, which is a steakhouse, or Magna Marbella Cafe, which sometimes has jazz nights.
Turtle Lake
In the northern part, you will find Lago de los Tortugas (Turtle Lake). It is a reservoir with water where children swim in the summer and you can have a picnic around. Many different waterfowl gather here. You can walk over the 40 meter long and 20 meter high concrete dam. In 1890, it was called Embalse Nuevo El Angel. The dam was meant to complement Pantano Viejo and Embalse Nuevo El Alquiero, which are hidden in Nueva Andalucia. The lake got its name from the turtles that are now found there.
Bullring
In Nueva Andalucia, there is also a bullring. Today, no bullfighting is held here, but instead, various concerts or other events are held. The market is also held around the bullring on Saturdays.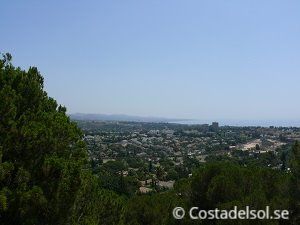 Getting here
To go to Nueva Andalucia, you can choose one of the low-cost flights that come here and then land at Malaga's airport. From the airport, it takes about 45 minutes by car to Nueva Andalucia. At the airport, there are many car rental companies that you can choose from if you want to rent a car during your stay. You can also take one of the taxis that are waiting outside the airport. There are also bus stops outside the airport if you want to take a bus. You can also book a shuttle service online in advance. Then, a car will be waiting for you outside the airport and take you directly where you want to go. From Nueva Andalucia to Marbella, it takes about 10 minutes by car.
Beaches
If you want to swim on the beach, you only have a short walk to the beach. It takes about 10 minutes to walk down to Puerto Banus from Nueva Andalucia, depending on where you live in Nueva Andalucia. At Puerto Banus, there are many beautiful long beaches to choose from. At the beaches, there is also a beach promenade lined with restaurants and bars.